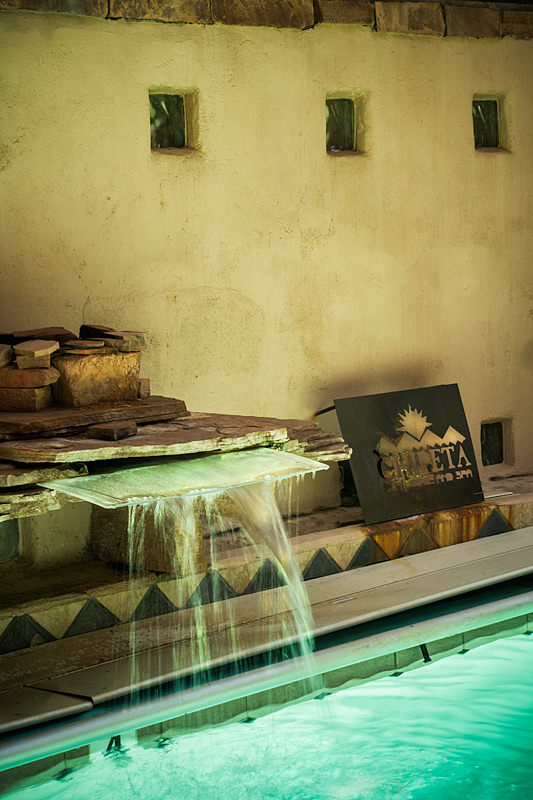 After an active, whirlwind 3 week trip to Colorado, my 17 year old daughter and I were exhausted on our early morning flight home. Thoughts of the time-consuming hassles of installing a new computer waiting for me when we landed nagged my mind. Closing my eyes, I envisioned being back at the Chipeta Solar Springs Resort— soaking in their pools and drifting into bliss.
The tranquility of that special place had dissipated my stress the minute I stepped inside.
Ahhh, to be transported back to that spa…
Located in Ridgway, a tiny mountain community on the western edge of Colorado in the San Juan and Cimmaron Mountains between Telluride and Montrose, this resort was a welcome respite in the middle of our trip between strenuous hikes, jarring jeep tours and a 5 day llama trek on our busy, fast-paced road trip through central and southwestern Colorado. Our bodies were tired, and we were ready to chill!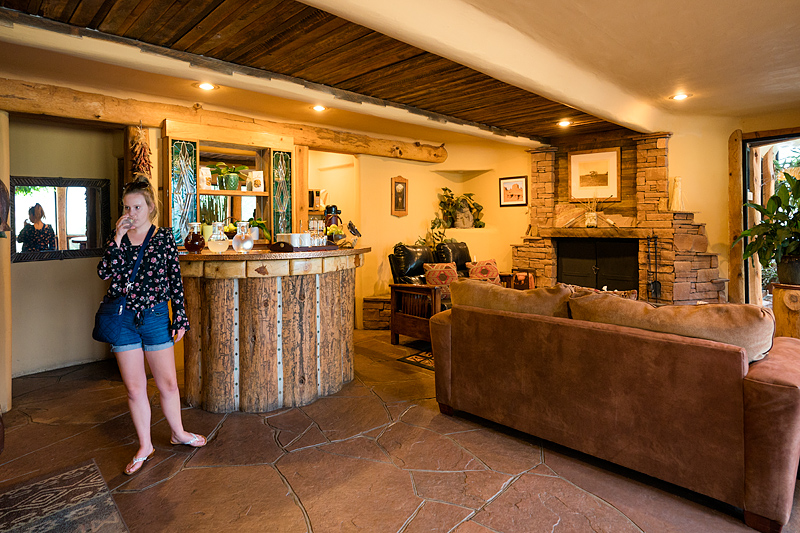 When we arrived that afternoon after visiting the Black Canyon National Park, we were offered cool lemonade and chocolate chip cookies and invited to unwind for a few moments in their rustic-chic lounge. Instead of a frantic check-in and rushing to our room, the calm serenity of this leisurely welcome set the tone for the remainder of our stay.  We were then led through an airy plant-filled solarium and given a short introductory tour of the property so that we could fully appreciate the various offerings and hear a little history about this intriguing place.
The first thing we noticed was the striking architectural design of the Chipeta Solar Springs Resort. There were large wooden beams, ceilings detailed with thatch, rough-hewn walls, stacked stone fireplaces and southwestern decor from Hopi art to terracotta tiles depicting sun and mountain motifs. And circular shapes everywhere, from ceiling décor and round tables to teepees and seating areas arranged around a central fire pit.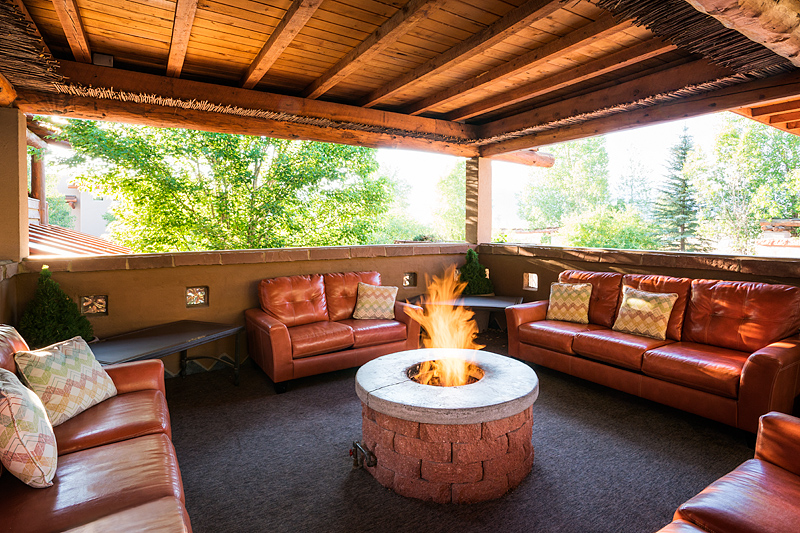 Designed by architect Jack Young, the inn reveals his inspiration for this resort–the cliff dwellings at Mesa Verde. Multi-level spaces with little niches for privacy are scattered around the property. Step up to enter a raised soaking pool, or climb the stairs to reach the elevated Four Corners dining room or higher yet, the panoramic Sky Bar on the open rooftop.
A central courtyard lined with trees and an inviting lap pool with a soothing water fountain connects the free-standing adobe buildings. Stemming outward is the Kiva, a circular conference room for retreats, guest rooms, the reception building, the dining areas, and the spacious Spa with a mirrored yoga room, a circular cedar sauna, steam room, 4 treatment rooms, and a secret garden with tiny circular soaking pools alongside a trickling creek. Beyond the spa is another courtyard with three cozy teepees arranged around a fire pit where you can sneak away by yourself to escape with a good book… or, when busted, hang out with your family.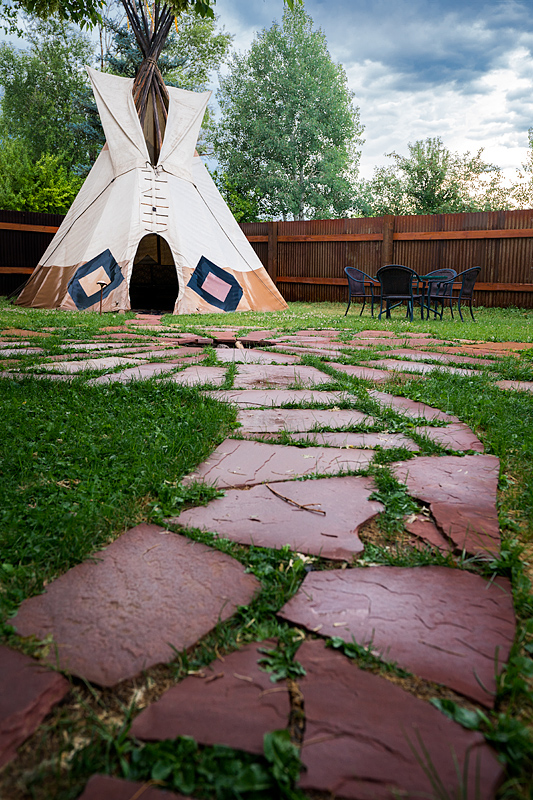 Inside one of the 3 teepees…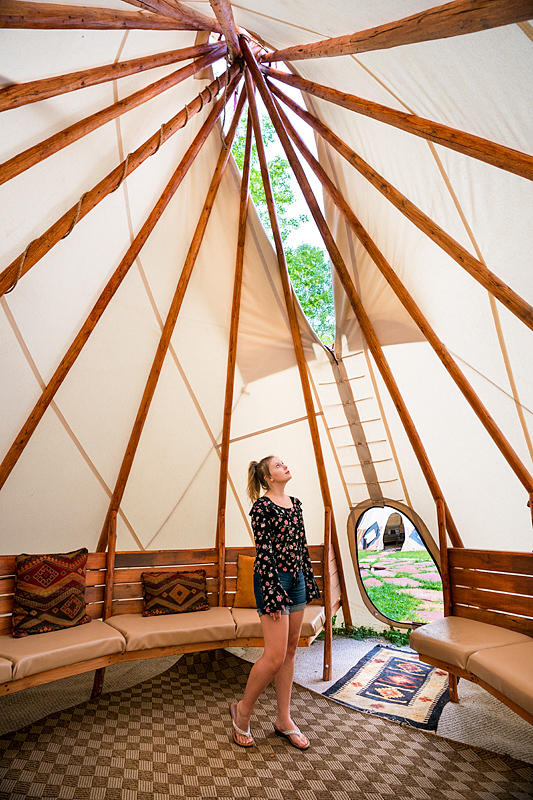 The teepees certainly were a unique place to hang out. But my favorite space was beyond the pool—a raised thermal soaking pool tucked under a low hanging wood-and-thatched roof. Open year round, the soaking pool stays a constant 103 degrees F.  Plush towels and an adjacent sitting area with leather couches around a crackling fire keep you warm and toasty when you get out. During our visit in July, this pool was surprisingly vacant (even though temps in this mountainous region drop significantly at night) making it feel just that much more luxurious!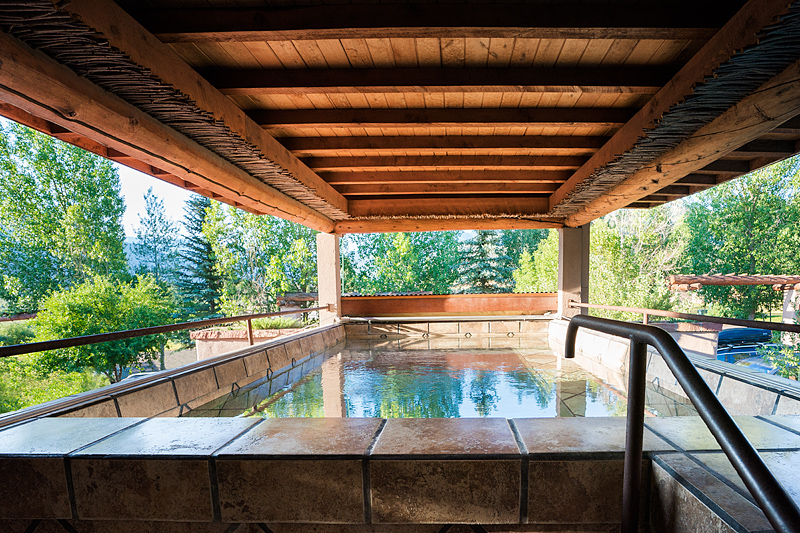 Colorado Accommodations
The inn feels intimate thanks to its careful design and its small size. It's a perfect place for romantic couples or those traveling solo and even families with well-mannered children.
Each of the 29 boutique rooms are uniquely decorated and range from standard rooms with queen beds and Mexican tiled baths to the deluxe Kiva rooms (the Mesa Verde room looks amazing–a 2 story room with a downstairs living area and a king bed in a loft with a hot tub on a private balcony). Jack Young's latest addition to his 20 year old property are the newly designed LoCha Studios—elegant condos gorgeously appointed with fully equipped with kitchens and additional bedding for families.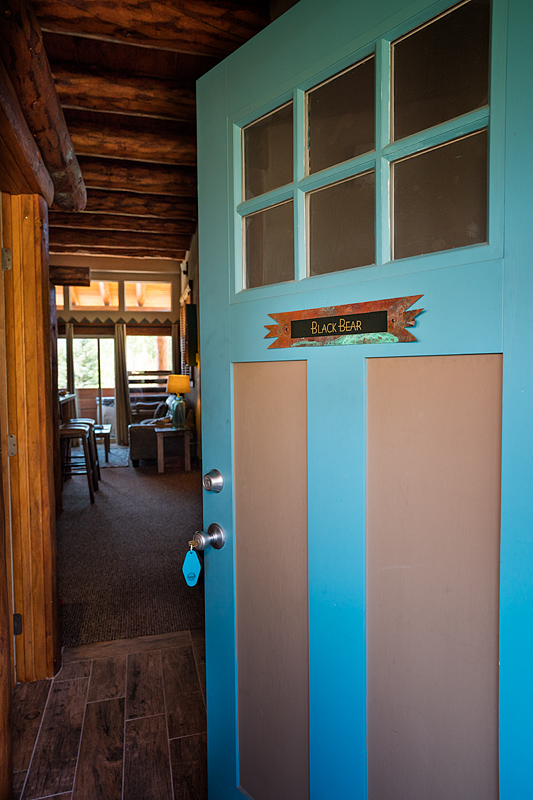 We stayed in the Black Bear room, one of their beautiful LoCha Studios that had a full kitchen, flat screen tv, gas fireplace, King bed, and a private deck with a hot tub overlooking the mountains. Amazing light-filled space, and oh, so comfy!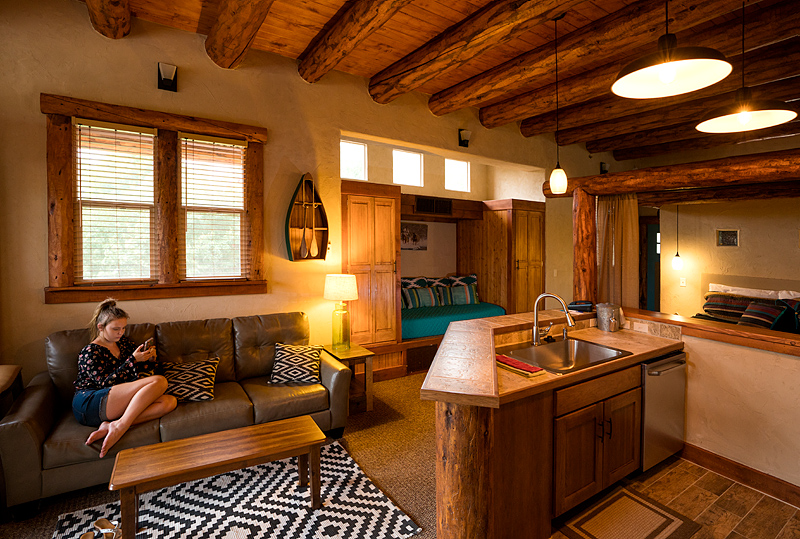 Love those leading lines and patterns…and the mountain views!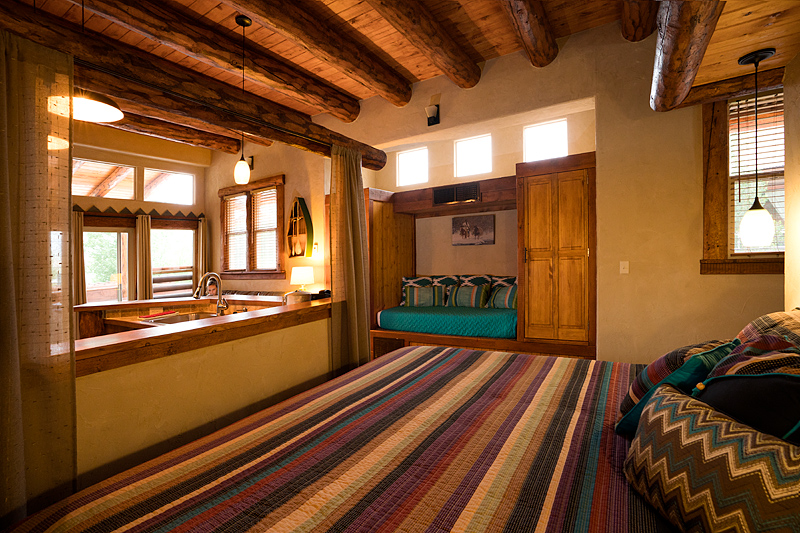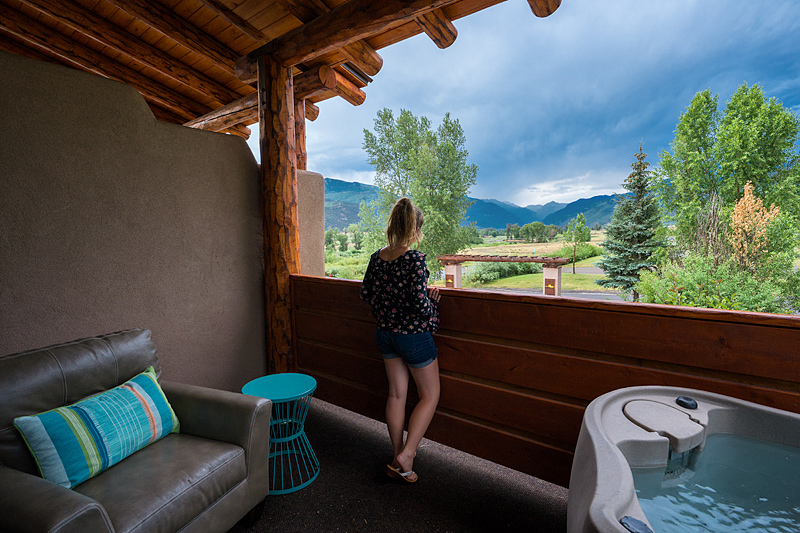 My teenage daughter loved the daybed alcove decorated in her favorite color–perfect space for catching up with her friends on Snapchat and Instagram.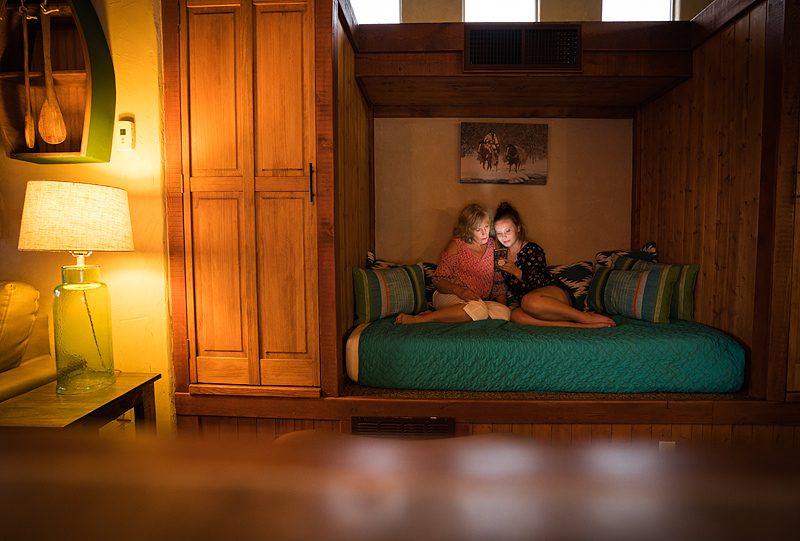 Early that evening, we dined in the Four Corners restaurant upstairs on the outdoor patio overlooking the distant peaks of the San Juan and Cimmaron Mountain ranges. Chef Chuy Ayvar offers seafood, Asian and American fare on his eclectic menu, served summer evenings except Thursdays. Entrees range from a seafood pasta and a vegetarian dish to grilled salmon, tenderloin and beef.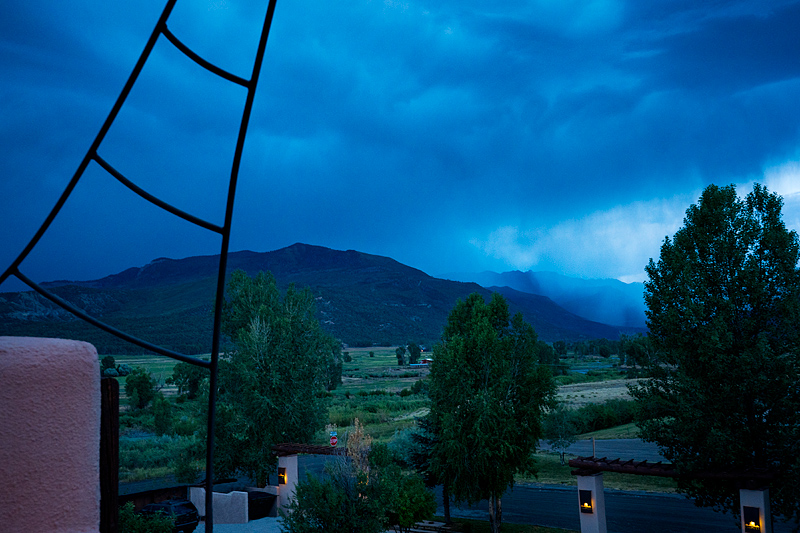 I chose the melt-in-your-mouth Grilled Beef Filet, a perfectly prepared steak served with mashed potatoes, asparagus and a sauce with mushrooms and green peppercorns. It ranked as one of my favorite meals in Colorado, and was worth the splurge!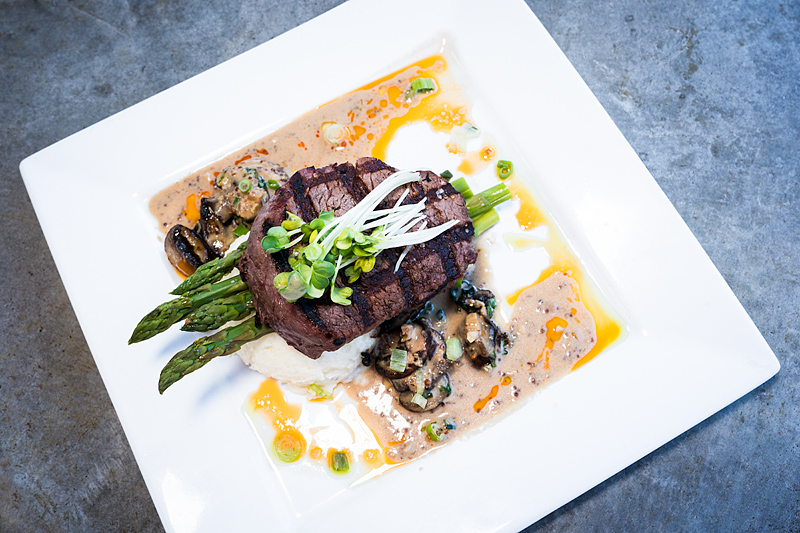 My daughter opted for lighter fare–a Caesar salad— so that she could save room for sushi later during sunset at the Sky Bar. As the sun began to set, we changed into sweaters as the chilly mountain air threatened wind and rain, and headed up to the Sky Bar. We sat near a family celebrating a birthday under open skies, watching storm clouds roll in over the silhouette of panoramic mountains.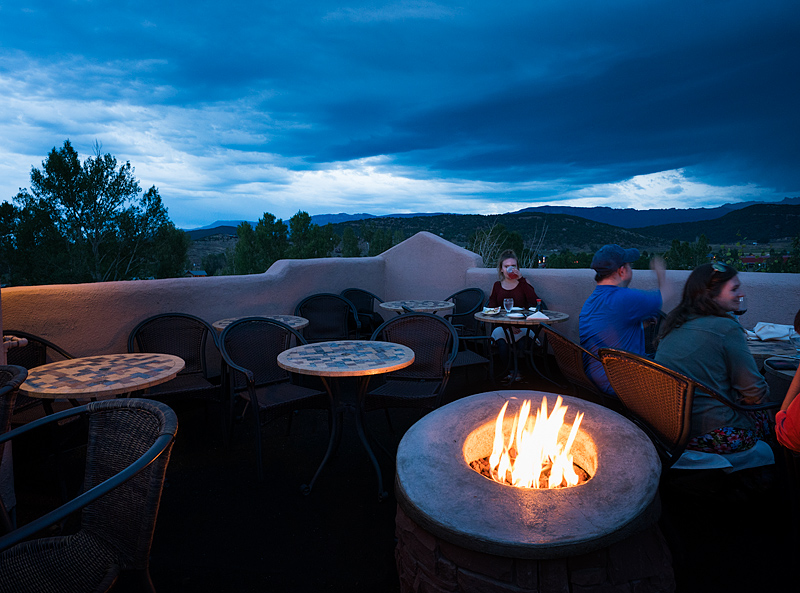 We enjoyed one of their featured drinks—a refreshing watermelon and lime mocktail–and ordered sushi, which is half price every night for an hour beginning at 8:30pm.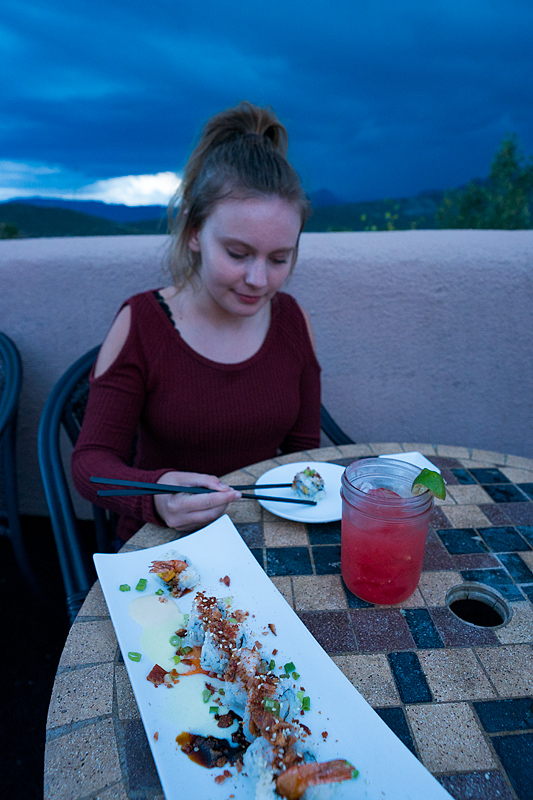 It was a rather quiet night at the rooftop Sky Bar. When all but two tables had cleared, the birthday family even invited the friendly waiter to sit down and enjoy a glass of wine with them. Busier nights tend to be Wednesday and Fridays when locals congregate to hear regional musicians play live music in the Sky Bar–voted as the best view in town for its stunning mountain vistas.
After sunset we checked out the inviting pool. The 85 degree water felt a little cold on a chilly night when we had our own jacuzzi waiting for us on our balcony!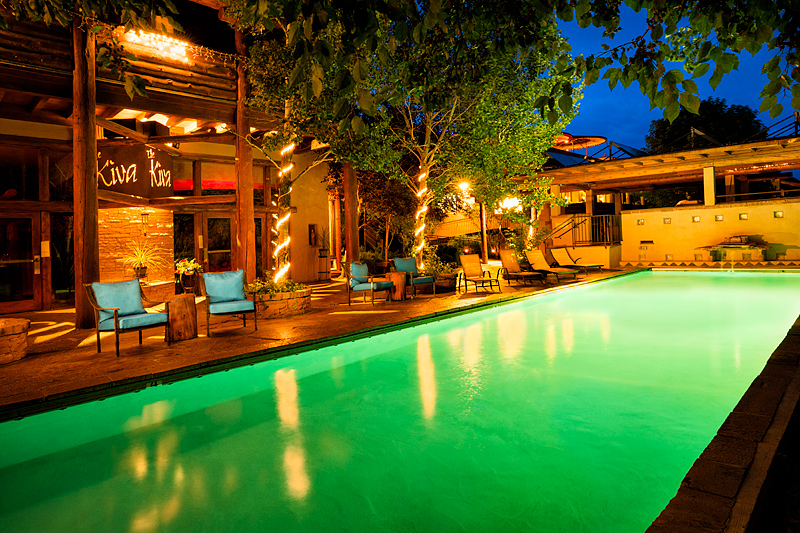 There's nothing like hot water to melt all tensions away…and seeing stars appear in the night sky was a special surprise after a light rain passed. Such visibility was not expected from an inn located right in town!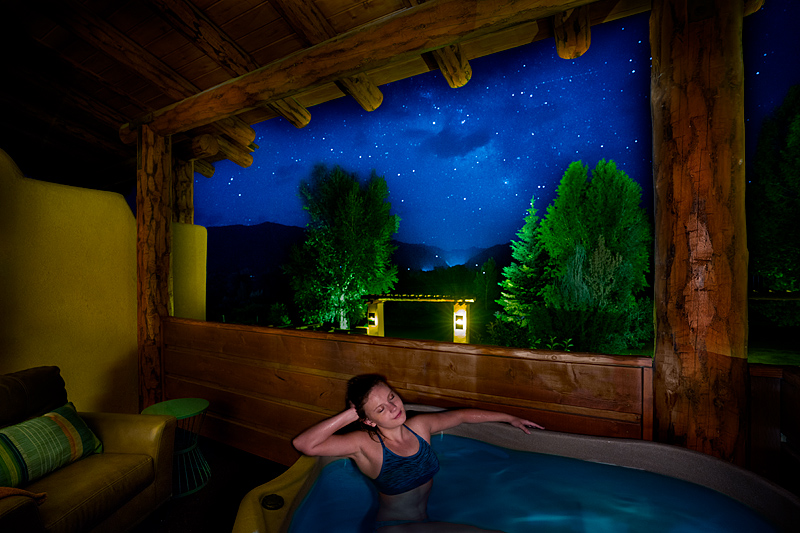 Early the next morning, we snuck off to the soaking pool to have it all to ourselves. It felt glorious to float in the thermal waters watching steam swirl around as the sun gently warmed the day.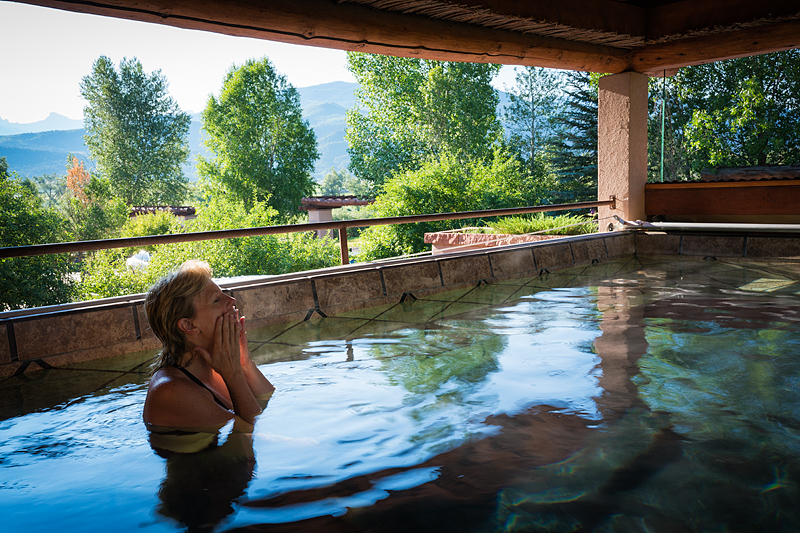 Feeling relaxed, we made our way to the 2-story atrium surrounded by trees and flowering plants. The breakfast buffet included a delicious ham and cheese quiche, fresh fruit, homemade granola and yogurt. There were also muffins and pastries, juice, coffee and tea. I liked that the dishes were kept in an antique armoire, another detail thoughtfully selected.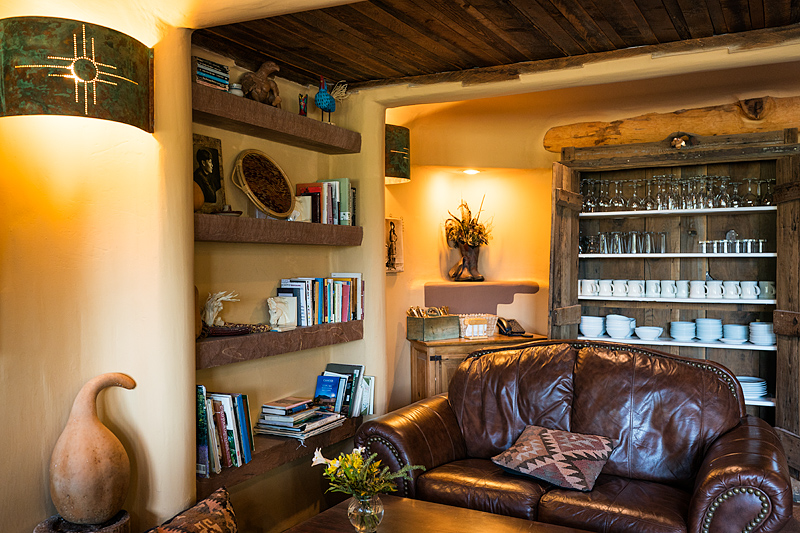 Had we stayed on a different day, we would've joined the yoga class that is offered free for guests on Monday, Friday and Saturday mornings at 8:30am (also available to locals for a small fee). I loved the airy, open space.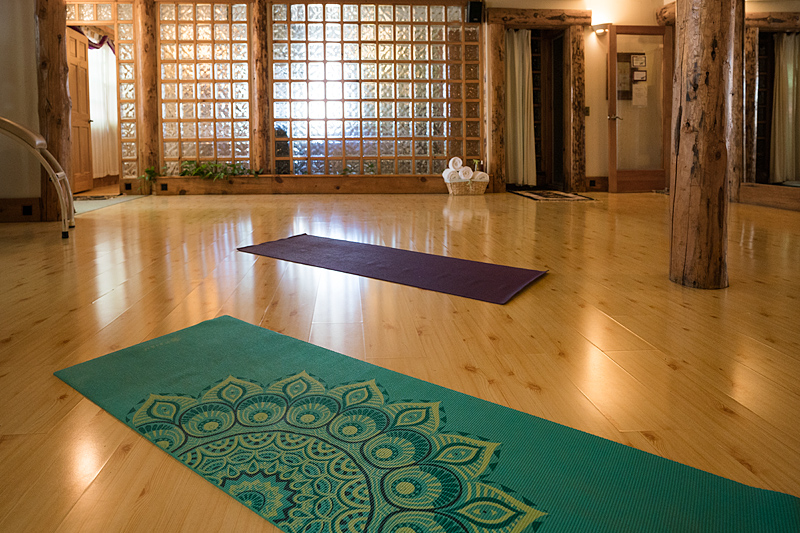 At 10am we had a massage appointment which we made in advance. The little waiting area was a serene space with Buddha statues sitting in niches overlooking leather couches and a stone fireplace.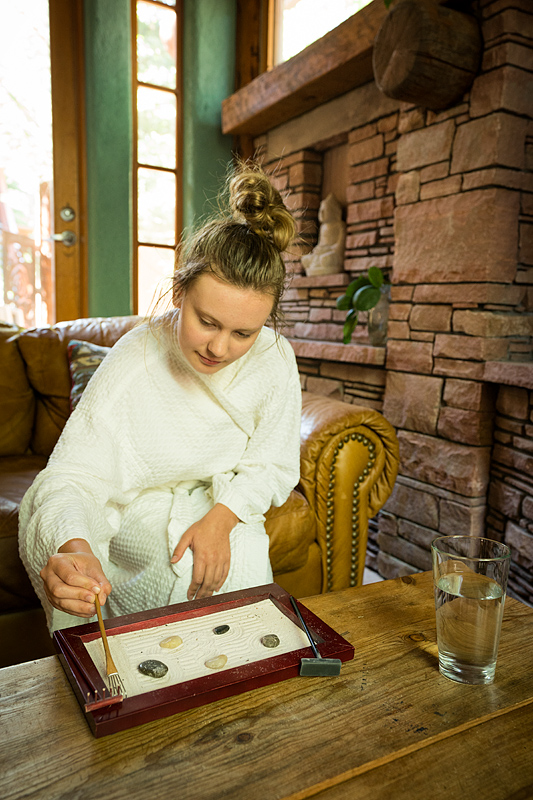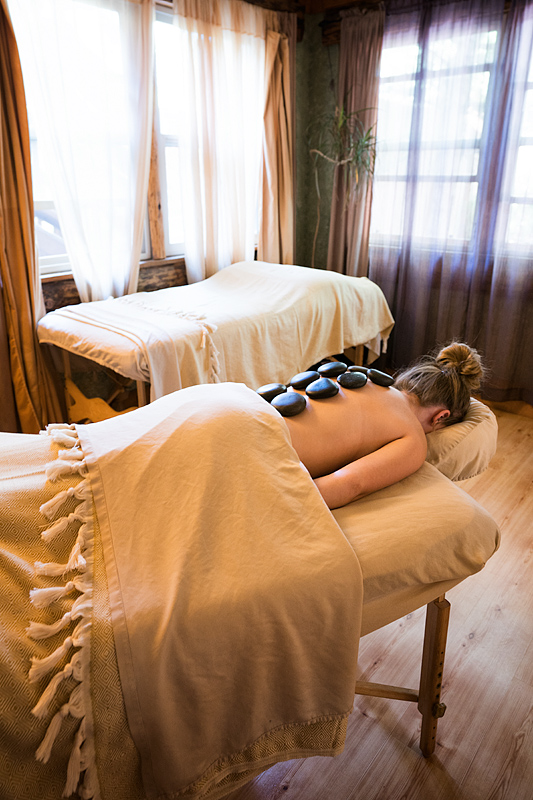 Hot stones, warm coconut oil, expert touch…ahhh…who doesn't love a good massage?
The soft lovely scent of cedar oil lingered in the air after sitting in their cedar sauna.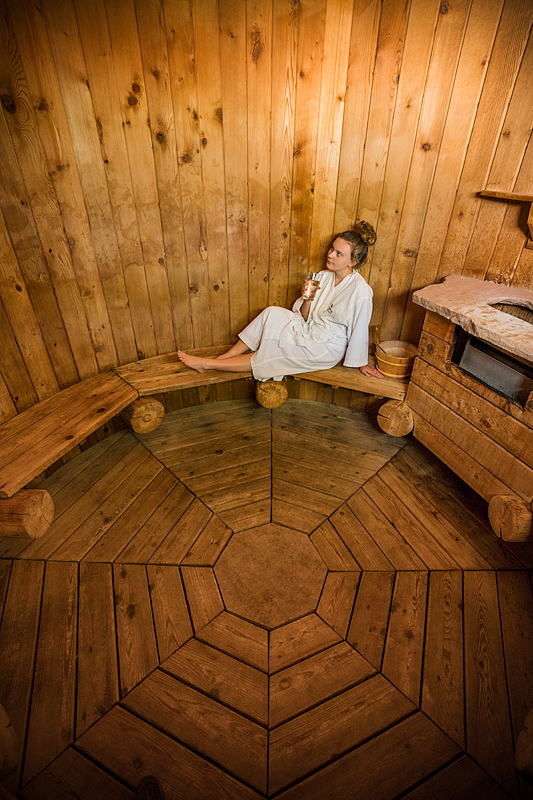 I wandered out to the secret garden while my daughter went back to pack up for our next destination.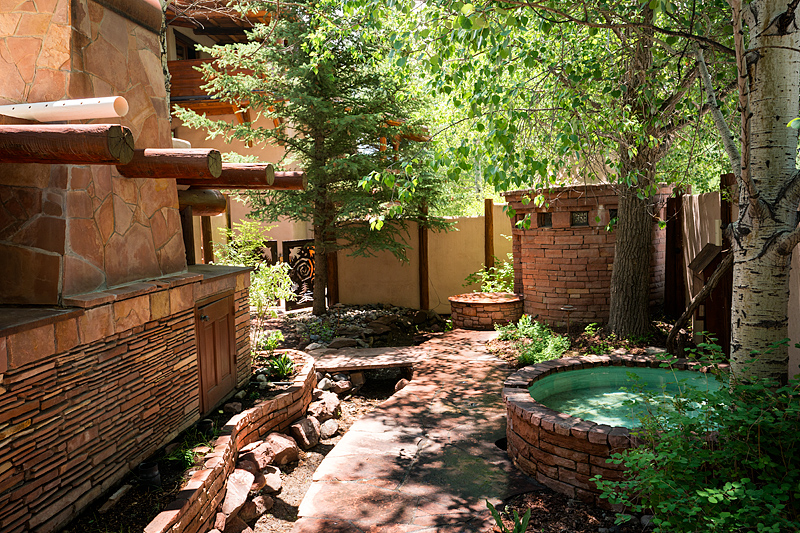 My daughter implored me to hurry. Yes, of course I was excited about our upcoming jeep tour to Imogene Pass in Ouray, just 15 minutes away.
But…I lingered.
After all this self-indulgence, I wasn't ready to leave this peaceful, protective cocoon…quite yet.
If you go: Chipeta Solar Springs Resort is located in the tiny mountain community of Ridgway, Colorado on Highway 550, conveniently between Ouray (15 minutes south), Telluride (45 minutes southwest) or Montrose (35 minutes north). This tiny town of True Grit John Wayne fame sports a memorabilia-filled cafe of the same name (2 blocks walk from the inn), a park devoted to home-town native Dennis Weaver, and landscapes that Western fans will recognize, as over 100 Western films were shot here. Check out the Ridgway Tourism site for more information about hot air ballooning, ATV rentals, music festivals, hiking, fishing, and golfing if you must fuel a need to be active. Chipeta's website also offers special packages that include ballooning or jeep rides. Otherwise, consider doing nothing more than relaxing and indulging for a true break like we did!
Credits: Kim Walker Original post: http://www.uniquetravelphoto.com/chillin-at-the-chipeta-solar-springs-resort-in-ridgeway-colorado/